PRO SERVICES
E-WASTE ACCEPTED AT OUR COLLECTION AND RECYCLING POINTS
| | | |
| --- | --- | --- |
| S.NO | ELECTRICAL AND ELECTRONIC EQUIPMENT | CODE |
| 01 | Centralized data processing: Mainframes Minicomputers | ITEW1 |
| 02 | Personal Computing: Personal Computers (Central processing unit with input and output devices) | ITEW2 |
| 03 | Personal Computing: Laptop Computers (Central Processing Unit with input and output devices) | ITEW3 |
| 04 | Personal Computing: Note Book Computers | ITEW4 |
| 05 | Personal Computing: Note Pad Computers | ITEW5 |
| 06 | Printers  Including Cartridges | ITEW6 |
| 07 | Copying Equipment | ITEW7 |
| 08 | User Terminals and Systems | ITEW9 |
| 09 | Facsimile | ITEW10 |
| 10 | Telex | ITEW11 |
| 11 | Telephones | ITEW12 |
| 12 | Cordless Telephones | ITEW14 |
| 13 | Cellular Telephones | ITEW15 |
| 14 | Answering Systems | ITEW16 |
| 15 | Televisions Sets (including sets based on Liquid Crystal Display and Light Emitting Diode technology) | CEEW1 |
| 16 | Refrigerator | CEEW2 |
| 17 | Washing Machine | CEEW3 |
| 18 | Air-Conditioners excluding centralized air conditioning plants | CEEW4 |
COLLECTION MECHANISM
Collection of e-Waste is an essential component of all PRO Services. It is this important first step that often becomes a deterrent to the whole process. Vans Chemistry will have closed the loop communication with producer, reverse logistic partner and customer to smoothen the process as scheduled and planned. Proper communication will create awareness about the importance of resource management and proper recycling
General Collection Scheme:
The EEE Products were introduced into the market by the producers need to be collected and recycled properly, Vans Chemistry will keep the track record of sales from producers along with retailer name, consumer name, contact details, date of purchase, product life span, service or maintenance details of the product and land of use.
If the customer data is not available, thus can be handled through our marketing technique as we will collect the information of place it sold and our team will conduct awareness creation sessions regularly to collect such anonymous products.
Vans Chemistry's communication team will contact the customers regularly to understand the product status to update the repair activities perhaps performed. And will remind them regularly the importance of appropriate recycling after its end-of-life; and
Our team will disseminate the information to customers about our collection schemes and collection partner, nearby collection centres and collection bin locations regularly to customers via email, SMS, calls, social media, displays, posters etc.,
We recommend the producer to deny selling the product to the particular customers who improperly dispose or landfill the end-of-life products.
Vans Chemistry will also utilize our own vehicle to do collection within Bangalore limits and engage the reverse logistic partner for both Bangalore and PAN India collection when and where necessary. The whole collection and channelization process will comply with all the requirements of SPCB, CPCB and other relevant authorities' regulations. And the liability of the EEE Products collected will owned by Vans Chemistry throughout the process.
Other Specific Scheme of Collection
Buy Back Scheme
Exchange Scheme
Coupons
Volunteer Programs
Take Back Programs
Mobile Collection Vehicle
NGO Collection
COLLECTION POINTS
#

COLLECTION CENTRE DETAILS

CONTACT

STATE LOCATED

01

CWMP, E-Borangi Village, Parawada Manadal, Visakhapatnam Dist- 531021

18001031365

Andra Pradesh

02

Opposite SBI Bank, Bhalukpong, Chariduar-Tawang Road, Bhalukpong-790114, Arunachal Pradesh

18001031365

Arunachal Pradesh

03

No.14, Amrit Nagar, Opp Neptuna Cinemall hall Beltola Chariali, Guwahati-781029, Assam

18001031365

Assam

04

Ward no.21, VPO, Madhepura District, Madhepura- 852122, Bihar

18001031365

Bihar

05

Sadhu Bhavan, Near Shiva Machin, Ring Road Number 2, Sondongari, Rajpur-492001,  Chhattisgarh

18001031365

Chhattisgarh

06

Upper Bazar, Budhawar Peth Near, Shantadurga Medical Stores, Ponda, Goa- 403401,

18001031365

Goa

07

BG-3, Radhe Business Empire, Near Aslali Circle, Aslali, Ahmedabad 382427

18001031365

Gujarat

08

Village Uncha Majra, Bilaspur- Pataudi Road,  Near Bilaspur Chowk, Haryana 122503

18001031365

Haryana

09

BO Baddi, Vil-Gullarwala, Near Sangam Hotel, Sai Road, Baddi- 173205, Himachal Pradesh

18001031365

Himachal Pradesh

10

Near RC Plaza, Bari Brahmana Tehsil & Dist. Samba, Birpur Complex, Jammu 181133, J&K

18001031365

Jammu & Kashmir

11

Kokar Chowk, National Highway 23, Hatwar, Ranchi, Jharkhand

18001031365

Jharkhand

12

George Court,4th Floor, No.5C/501,
5th Main HRBR, 2nd Block, Bangalore - 560 043

18001031365

Karnataka

13

Door # 57/2966E1, 2nd Floor, Latha's Villa, Nethaji Road, Kadavanthra, Cochin - 682 020, India.

18001031365

Kerala

14

Plot No. 104, Industrial Area No.II, Pithambur, Dhar (Dist) Madya Pradesh 454775

18001031365

Madhya Pradesh

15

513-514, Crescent Busienss Park, Sakinaka Telephone Exchange Lane
Safed Pul, Sakinaka, Andheri (East), Mumbai, 400072, India

18001031365

Maharastra

Office No.203, Sanas Memories, II Floor, Near Din Dayal Hospital
Fergussion College Road, Shivaji Nagar, Pune - 411 005

18001031365

Maharastra

16

Opposite to Imphal International Airport, Changanegi, Imphal 795140, Manipur

18001031365

Manipur

17

MCL Compound, Lumshnong, Janita Hills, Meghalaya 793200

18001031365

Meghalaya

18

Luangmual, Complex Peng, Mizoram Agency Opposite, Aizawal-796009, Mizoram

18001031365

Mizoram

19

Eros Line, Police Colony, Dimapur- 797112, Nagaland

18001031365

Nagaland

20

Flat No 103, Block No.2, Club Town Apartments, Near Domana Square, Chandra Shekharpur, Bhubaneshwar, Odisha-751024

18001031365

Odisha

21

Village- Nimbua, PO-Rampur Sanian, The-Derabassi, Mohali Dist., Punjab 140507

18001031365

Punjab

22

Survey No. 1018/13, Vill.Gudli, Debari, Railway Station Road, Udaipur-313024, Rajasthan

18001031365

Rajasthan

23

NH10, IBM, Near Nagar Panchayat Office, Rangpo, Sikkim-737132

18001031365

Sikkim

24

No.31 Velachery Road, Little Mount,
Saidapet, Chennai 600015, India

18001031365

Tamil Nadu

25

Plot No 49 , IIND floor, Ishaq colony, Near AOC Centre ;
Opposite Ghanshyam super Market, Wellington Road, Secunderabad -500015, Telangana, India

18001031365

Telangana

26

BO-Agartala, No.9, Laxmi Narayan Road, Banamalipur, Agartala-799001, Tripura

18001031365

Tripura

27

Plot No 672, On NH-2, Sikandra Road, Village-Kumbhi, Tehsil-Akbarpur, Kanpur Dist, Dehat- 209101, Uttar Pradesh

18001031365

Uttar Pradesh

28

Kichha Road, Opp-Tulsi Dwar, Main Bypass, U.S.Nagar, Rudrapur 263148, Uttarakhand

18001031365

Uttarakhand

29

124 Karaya Road, Royal Calcutta Guest House, Gr.Fl, Kolkata - 700017, India.

18001031365

West Bengal

30

A-220, 1st Floor, Road No. 6, Mahipalpur Extension, NH-8, New Delhi. 110 037

18001031365

Delhi

31

No.94/5, Shed no 13&14, SSR Industrial Layout, Kannalli Village, Kodigehalli Post, Yeshwantapura Hobli, Bangalore 560091

18001031365

Karnataka
LIST OF DISMANTLERS/RECYCLERS
| | | | | |
| --- | --- | --- | --- | --- |
| # | RECYCLER | ADDRESS | CONTACT | STATE LOCATED |
| 01 | VANS CHEMISTRY PVT LTD | No.94/5, Shed no 13&14, SSR Industrial Layout, Kannalli Village, Kodigehalli Post, Yeshwantapura Hobli, Bangalore 560091 | 18001031365 | Karnataka |
CHANNELIZATION OF PRODUCTS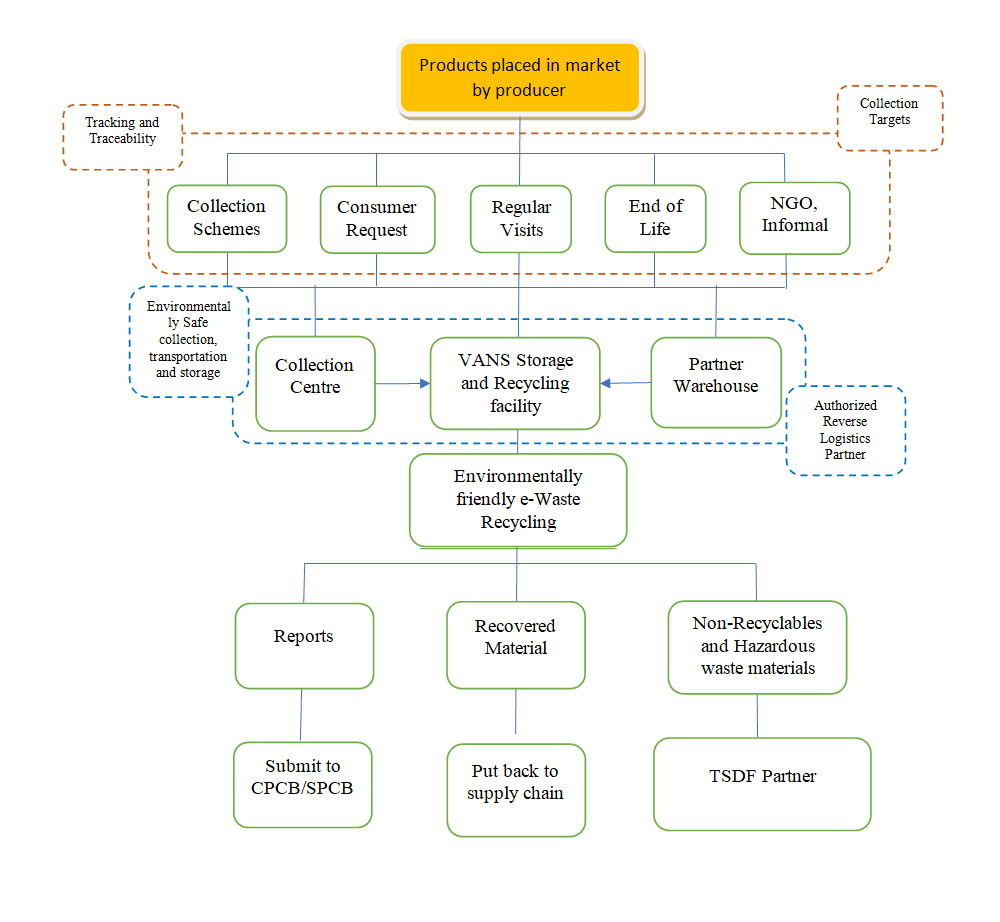 You can call us 24/7 to our Toll-free number to schedule the e-Waste Collection from your nearest collection point.